Pallet Terminology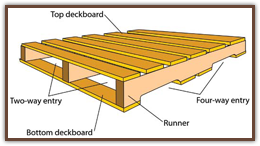 Block Pallet - a type of pallet with blocks rather than stringers between the pallet decks

Chamfered Deckboard - a deckboard with the edges of one or two faces beveled, either along the full or specified length of board or between stringers or blocks, facilitating entry of pallet-jack or forklift

Deckboard - a single element or component of a pallet deck, placed perpendicular to the stringer or stringer board

Flush Pallet - a pallet with deckboards flush with the stringers or blocks at the ends and sides of the pallet

Four-way Block Pallet - a pallet with openings at both opposite pallet ends and sides sufficient to permit hand-pallet jack entry; full four-way entry pallet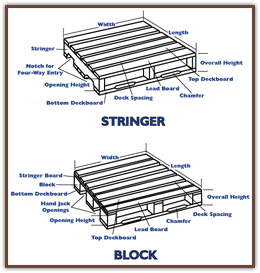 GMA or Grocery Pallet - a generic reference to a pallet used in grocery manufacturing, distribution and retailing; historically it meant a "GMA" which was originally specified by the Grocery Manufacturers Association

Hardwood - a wood from broad-leaved tree species (not necessarily hard in texture or density)

National Wooden Pallet and Container Association (NWPCA) - an international association with the goal of promoting the design, manufacturing, distribution, recycling and sale of pallets, containers and reels

Notched Stringer - a stringer with two or more notches spaced for fork-tine entry (partial four-way entry)

Opening Height - the vertical dimension measuring between decks, from the floor to the underside of the top deck, or from the floor to the top of the stringer notch

Overall Height - the vertical dimension measured from the pallet bottom to the pallet top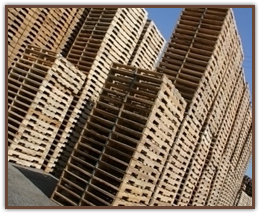 Pallet Design System (PDS) - a reliability-based computer-assisted design CAD program for wood pallets for determination of the safe load-carrying capacity, performance and economic life of wood pallets

Repaired Pallet - pallet with damaged components replaced with new or recycled components,in order to reuse it

Remanufactured Pallets - a pallet that has been used, discarded, salvaged, repaired or rebuilt in order to pass through other cycles of use … environmentally responsible

Skid - a pallet without bottom deckboards or deck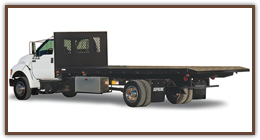 Stringer - continuous, longitudinal, solid or notched beam-component of the pallet used to support and space the deck components, often identified by location as the outside, interior or center stringer, bearer or runner

Wing - overhand of deckboard or deck end from the outside edge of the stringer or stringerboard, to increase unit-load area, to add pallet load-bearing capacity, to reduce deckboard-end splitting by fasteners and to facilitate the lifting of a pallet with bar slings hanging from a crane


ISPM-15 (International Regulation) Requirements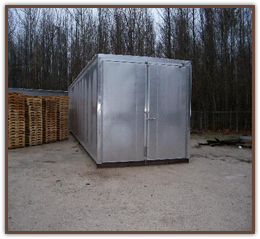 Compliance with ISPM-15 for wood packaging materials allows for two treatment processes:
Heat Treatment (HT)
: Wood packaging material should be heated in a schedule that achieves a minimum core temperature of 133ºF for a minimum of 30 minutes. The American Lumber Standards Committee administers the U.S. certification program for heat treatment.
Methyl Bromide (MB) Fumigation
: The wood packaging material should be fumigated with methyl bromide.
NOTE: ISPM 15 requirements apply to all solid wood packaging of coniferous (softwood) and non-coniferous (hardwood) materials.
Required Max. Load Capacity
: The maximum weight for which the pallet is being used to carry.